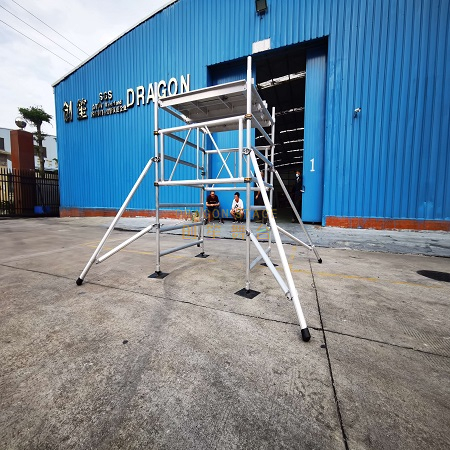 Brief
aluminum product substitute iron products in many areas may be a trend in this world. you'll notice that a lot of products are adopted Al material instead of steel and iron. no maters the garage and garden tools, the bookshelf, windows, even the building materials, and tool, like aluminum scaffolding, aluminum formwork. all of them are currently using aluminum rather than wood or alternative ancient material. it appears aluminum ally has been well-liked in each respect.
Our dragon company has been manufacturing stage, truss, and scaffold since 2008. we've got skilled designers to provide drafts upon customers' desires within 24hours and deliver a professional recommendation on custom style. our manufactory can manufacture customized products strictly abide by standards of ISO 9001, certified by SGS, TUV, and CE.
we have a lot of expertise in manufacturing Al alloy products, and that we believe every nation and country ought to developed and build better living environment, construction and building work never stop within the whole world, we are able to use the experiences in the staging tools design and production. that's why we produce aluminum scaffolding instead of steel scaffolding.
Critical Reasons for Al product Rise
in our opinion, the most reason for the total world take this transformation is costs. These costs not solely mean the personnel prices, it conjointly means that the material itself. and also the 1st one is that the essential reason.
as international aging developing, a lot of and more countries have to be compelled to face a reality that less youth want to try and do the physical works. this not as a result of less young people are wished for those works, also it because not numerous young people can bear those works.
in the past three decades, the foremost exciting news with photos is that a gaggle of young people cheers for the completion of their projects. however now, excepting those developing countries, you'll be able to see many young employees on the positioning instead of within the developed countries offices.
Does it mean that we tend to don't need the physical employee currently during this modern world? the solution is clearly negative. if it's true, we shall not be surprised to ascertain that a lot of governments in European countries revealed a serial of policies to draw in youth to migrate to affix their communities.
How to take care of the aging problem be a vital one that each government and society got to think about carefully. even in China, they need to face a similar issue and prepare to deal with it in the future twenty years.
How to make works easier and quicker to be completed the key resolution for all physical jobs. there are two ways that to solve. the primary one is to coach and educate the employees to make them additional productive; the second is to develop the tools.
and how to develop the tools? also, there are 2 ways. the first one is to be more intelligent which will be a organizer or helper with the worker, stop a part of work ( it means that the robots or machine); the second one is to be versatile however not block the work whereas it will facilitate the employee to be quicker and efficient.
while, a way to create the tools more versatile and higher serve the workers? then there are several ways.
1, be ligher and smaller while not changing tools feature functions
2, be standard or scientific style fit for work
3, be flexible to the enviroment cut back adopting time
judging from the on top of three standards, Al staging is that the typical product that solves the matter of ancient scaffolding, which is why we tend to manufacture and develop them as our products.
Low Density and High Intensity
The density of aluminum alloy is low, however the strength is incredibly high as the same as steel. this physical feature allows aluminium to act as steel and iron, and it can make all types of aluminum products, even within the industrial field, folks are selecting them to create machines, so on.
low density means that a similar volume of aluminum and steel, aluminum is lighter than steel. this could save a lot of energy value once using the same size tool fabricated from steel. it additionally means it shall improve the operating potency by deducing employees activities.
to facilitate workers to work quick may be a vefy helpful factor in the administration.
usually, physical working people shall work quick reckoning on 2 facts. one is physical strength; the other one is mental motive. physical strength in some way, it will be calculated by calories, whereas mental motive cannot be measured, and it will be a good improvement in operating potency if directors can totally master and use it. science study has verified that if an individual can get a satisfactory feeling from his/her work, then they shall gain encourages and confidence to satisfy additional duties and accomplish more work on an equivalent time. on contrary, if employees feel unhappy or tired, it shall discourage the tools users, and also the operating potency shall decrease dramatically.
based upon the facts above, we will draw a conclusion that a way to improve the tools users metal motive is that the key to enhance the efficiency. thanks to the aluminium features, we can see that it's several blessings to be a far better material in manufacturing the tools for physical works.
it is the reason that we decide aluminum ally manufacture staging instead of use steel and iron to produce scaffold.
Modular and Industrial Design
aluminum mobile scaffolding is wide employed in construction and other innovation and social unit works. however once study actual situation, we found aluminium 13|metallic element|metal} scaffold solely takes alittle part of the construction scaffold. it dramatically takes place staging and working platform in innovation and family works.
there are four reasons.
a large construction project desires a large quantity of number of scaffolds, within the price, steel is far low-cost than aluminum, thus somehow, aluminum scaffolding cannot be wide utilized in a giant construction site.

in traditional construction work, there are many machines and heavy-duty equipment are used, it needs things and tools robust and sturdy, whereas the steel scaffold features a higher bear capacity.

innovation and household work want less manpower, and fewer amount of scaffold, however want additional move throughout the work, thus mobile system is needed.

the small project sometimes has no skilled scaffolding team to take care of scaffold pitching work. so employees need one reasonably scaffold straightforward to be set up.
our aluminium scaffolding is light-weight needs less personnel to install. it's standard style will lower the necessities to the scaffolders (users).
furthermore, the aluminum scaffold is developing year by year, a lot of industrial design and smart ideas are adding to the current tool. and more and more purchasers place their wants and concepts into the design, that create our aluminum scaffolding is smarter and easier to use.
as we tend to know, any business shall get great development once more and more efforts place in. aluminium staging as a newborn tool, it will meet several needs within the works, thus more and more users are getting into this tool, it's pushed forward it evolved from an easy tool of a ladder or operating platform to climb up or a working area. it has been changed into a mixture of both with mobility.
Flexibilty and Enviromental
in the past, the primary tool get into your mind may be a ladder once you need to climb up; the first plan pop up may be a platform after you got to work in a high place; if you would like to work from one place completely different} nearby, the primary answer is to move the operating platform.
For several years, individuals are attempting to mend those issues throughout work. and that they created many innovations and reforms in ancient tools. similar to they create different support connected to the scaffold; building shaft within the scaffolds; added extra stairs appropriate scaffolding. while, till mobile scaffolding come back up with casters and different ladders, the total story has been changed.
aluminum scaffolding can be moved from place to place, its mobility allows it's not bound by an outsized body and fixed design, it will be moved as users need.
it is rust free and high-temperature endurance. users don't got to think about it need to be cleansed up throughout a wet environment. not just like the iron product, we'd like to brush a layer of paint to prevent rusting. even in an exceedingly high-temperature place, it shall not have chemical reactions. while, on many occasions, wood or bamboo scaffolds shall be swollen and broken in weather with strong sunshine.
in many industries, many products are straightforward to urge corrosion. however aluminum ally has strong corrosion resistance, it cannot get corroded in an exceedingly long time. it will be employed in types of operating environments.