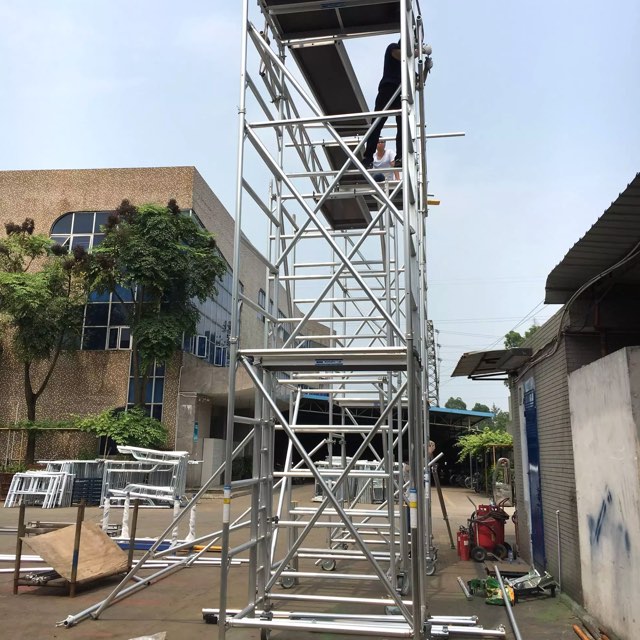 In recent years, aluminum scaffolds have been widely used in different purposes. Such as installation, event preparation, decoration, architecture and architecture. How to choose a practical and suitable bracket from many bracket types.
From an economic point of view, the buyer should choose a smaller size. However, from the actual point of view, they should choose a larger length, width, and height of the pulley, so the upper scaffolding platform is wider, and the move is smoother.
The new pulley portable scaffolding today can be easily moving, assembled, and disassembled, even if the size is large, it can also be disassembled to meet architectural needs, which is very flexible.
The key to selecting a suitable size scaffold is to fully understand the location of the scaffolding and its processing route.
If the scaffold may be pushed by the wheel, and you need to move from one location to another, you don't consider the size of the elevator and the door in advance, and the moving scaffold has been rejected, it is too sad!
Typically, the aluminum scaffold contains the following dimensions.
Size
Length: 2 / 2.5 / 3 meters
Width: 0.75 / 1.35 meters
Height: 2-40 meters
2. Ladder style
Climbing ladder, angular ladder 45 °, ceiling is 75 °
From this data, you can customize the scaffolding based on the conditions of use. In addition, you can find any scaffolding supplies through the Internet and require scaffolding companies to provide you with a reasonable solution according to your requirements.
Have you encountered this situation? A ladder works on the work site, but it is found that the scaffold cannot enter trucks or small trucks, or spend a lot of time for installation. At that time, you can consider our company's folding scaffolding. It is slim, foldable, long and width of 0.68 * 1.4 meters.
If you order the order of installing the hotel auditorium, the aluminum scaffolding tower will be as high as 15 meters, how to ensure the safety of scaffolding? Many scaffoldes feel a headache.
At this point, you must consider building an auxiliary framework that is specifically used to support the main footger frame.
If you work outdoors, you will need to use leg brackets to prevent shift. Otherwise, if the worker is on the 15-meter high scaffolding, if there is wind and grass, they will \"swing \" height in heights will lead to hidden scaffolding security issues.
At the same time, in other special cases, if there is bumps in the ground or air, it should be considered to consider a custom floating platform or bump holder, a bridge scaffolding.
I am from Dragon, our Dragon has been in production stage, truss and scaffolding industries since 2008.
We have our own factory to ensure custom production and quality.
In addition, we have a professional designer to provide sketches for you within 24 hours, our production team can produce any kind of specific and specific truss or products you want.
For more information, please contact me and welcome to our website: www.dragontruss.com.cn